Stanley Oriental Hotel
This is the only real hotel functioning in Stanley at the moment, and this small tower block overlooking the harbour of Stanley Bay is a great choice for being as close to the market as possible.
As it is on the waterfront you are just steps away from the market, coming out of the building you are surrounded by restaurants, cafes and eateries. A quick walk along the waterfront and you are at the southern end of the market itself. Or walk along the waterfront and into the new promenade.
The hotel itself is a basic small hotel made from converted apartments, there are no hotel reception, garden/grounds or pool, but it offers small clean rooms in a modern style.
Each room is bright, airy and spacious with modern decor and open floor plan. Wide glass doors through to balconies allow you to get the best out of view whether you are inside the room itsself or enjoying the fresh air outside. Stay here in the autumn when Hong Kong's weather is bright, sunny, dry and cool and enjoy the best parts HK.
If you want to stay longer term then this is also a great place because rooms include mini kitchenettes and that allows you to feed yourself from local produced purchased in the wet market, or from the supermarkets in nearby Stanley Plaza.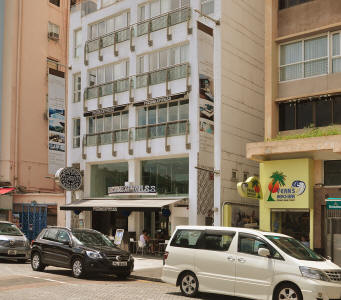 Website: www.stanleyorientalhotel.com.hk
Address: 2/F, 90B Stanley Main Street, Stanley (Above the Pizza Express)
Telephone: +852 2899-1688
Email: [email protected]