To Stanley Market from Causeway Bay
Causeway Bay is one of the main dining, shopping and entertainment districts of Hong Kong as well as at the same time being a popular residential area. With everything from street markets to the highest end brand shopping, all packed into a few streets of high-rise blocks, the CWB district as it is often known is a must for visitors and local alike.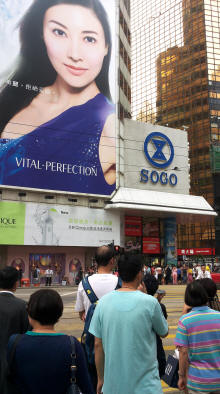 At one time the area was well known for its Japanese expatriate population and there were several Japanese department stores in the area, but today only SOGO and City'Super remain, with only a subdued Japanese influence in their style and products.
There are as many local Hong Kongers waiting outside the entrance to the SOGO department store as there are tourists admiring the contrast of old style trams, and modern glass high-rise towers. You can visit the mini Ladies' Market in Jardine's Crescent, and buy cheap blouses and accessories along with the locals, or you can walk around the up-market Times Square mall and into the traditional "wet market" where live fish, fresh meat and produce are on offer.
Many people stay in or near Causeway Bay, and even if your hotel is not in the district itself you'll probably visit to hear the Noon Day guy fired, right outside the Excelsior Hotel. Or perhaps a walk in the small green spaces of Victoria Park, one of the few green oaises in this busy built up city.
Getting from Causeway Bay to Stanley Market is not difficult, there are a few major options to choose from. From Taxi, Minibus, public bus or even Uber all will work fine but offer different experiences. The distance is not walkable, and hiking the hill would not be a recommended experience.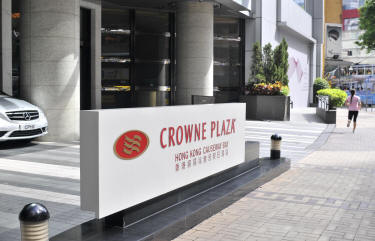 The Crown Plaza Causeway Bay hotel is one of the newest custom built hotels in the district.
As Causeway Bay is on the north side of the island, and Stanley is of course on the South side, you must get past the mountainous interior of Hong Kong island. Going over the top is an option via Wong Nai Chung Gap or there is a tunnel which for a few dollars toll allows you to quickly get from one side to the other.
Option 1 - Take a taxi
The ubiquitous red taxi of Hong Kong is hard to beat for convenience. For less than HK$100, including a $5 tunnel toll, up to 5 people can take the trip in less than half an hour.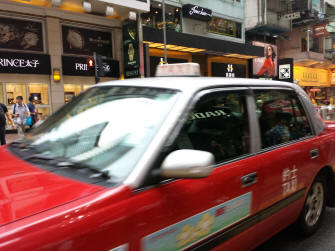 Catch a taxi, outside Times Square there is a taxi rank though busy at rush hour
Tell the driver "Stanley market", and ask to go through the tunnel
Don't take the Eastern Island Corridor route, which is much longer though faster
Don't take the Wong Nai Chung Gap route, unless you don't like tunnels
When the taxi drops you at the Stanley Village road, walk down, away from the slope, to enter the market
There are plenty of taxis arriving at almost all times of the day, except early morning, so it is easy to catch a cab here back to the city after your time in the market.
Option 2 - Green minibus
With a direct route from Causeway Bay to Stanley the green minibuses (GMB) number 40 is a great choice, and is certainly travelling like a local. These minibuses are small and fast, so fast that in the past there were problems with them speeding but now they generally are a safe option.
More details about GMB 40 from Causeway Bay