Hotels near Stanley Market
Given how popular the area is for visitors to Hong Kong there are not many places to stay near Stanley Market itself. However, there are a few choices which may be suitable and if you will extend the range a little and take advantage of the excellent public transport options in Hong Kong, then suddenly there are plenty of options.
Within Stanley Village there is only one actual hotel, the Stanley Oriental Hotel, which is located in an excellent seafront location just steps away from the market.
Other accommodation options in Stanley include the "minihotel" which is actually a short stay apartment, most suitable for monthly stays, while airbnb offers more than 10 places in the area.
Staying Inside Stanley Village
Stanley Oriental Hotel
This is the only real hotel functioning in Stanley at the moment, and this small tower block overlooking the harbour is a great choice for being as close to the market as possible. read more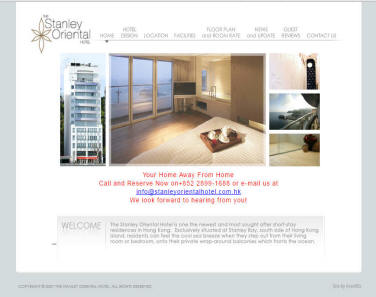 MiniHotel.HK
A small serviced apartment in Stanley.
Website: minihotel.hk
AirBNB for private flats
There are no shortage of private flats or apartments to stay in and around Stanley, over 10 are listed via AirBNB.
www.airbnb.com/s/Stanley--Hong-Kong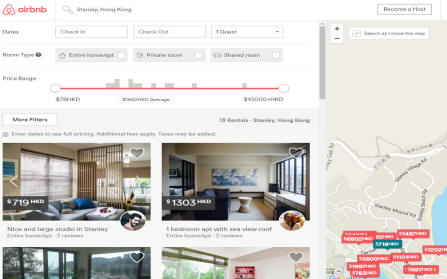 Nearby hotels
Get away from Stanley itself and there are a wide range of hotels which can allow you to have a range of budgets and styles, while still be within easy distance of the market.
L'hotel Island South
Located along the west along the coast but still close to Stanley is the L'Hotel which is one of a small group of local hotels. With a full set of hotel facilities, from a proper reception through to a lap pool, it is the closest upmarket hotel experience to Stanley.
Address: 55 Wong Chuk Hang Road, Aberdeen, Hong Kong
Telephone: +852 3968 8888
Website: www.lhotelgroup.com
Caritas Oswald Cheung International House
Part of the Caritas charity group this International House it located in Aberdeen, just along the coast from Stanley. While originally a fishing village the area is now post-inidustrial and well connect to transport, art, dining and shopping choices.
Address: 20 Tin Wan Street, Aberdeen , Hong Kong.
Email: [email protected]
Website: www.caritas-chs.org.hk
The Emperor Hotel Happy Valley
Although located on the other side of Hong Kong island this small purpose built hotel offers the advantage of easy access to Stanley via the Aberdeen Tunnel, plus close connections to the nearby Causeway Bay shopping district.
Address: No. 1 Wang Tak Street, Happy Valley, Hong Kong
Website: www.emperorhotel.com.hk

Y-loft Youth Hostel
One of the new breed of Hong Kong youth hostels, the Y-Loft offers both short and long term accommodation. Very close to the Chai Wan MTR station the 148 room hostel has twin, triple and group rooms sleeping up to six.
Address: Youth Square, 238 Chai Wan Rd, Chai Wan, Hong Kong
Website: www.youthsquare.hk